Flow Table
---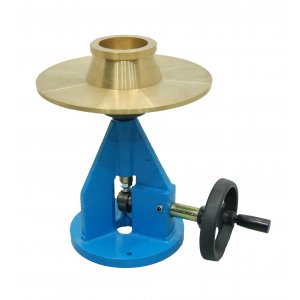 The consistency and workability of concrete is a very important factor and is strictly connected to the water/cement ratio, to the effect of admixtures and finally to the strength and quality of concrete. Suitable for concrete mixes of high and very high workability. To perform this test, a sample is placed on a metal surface which is then raised and dropped through a known height.
General Description And Specification:
AS PER IS: 5512. FOR CEMENT MORTAR AND LIME
The flow table consists of a brass table top 250 + 2.5mm dia mounted on a rigid stand. The table top is reinforced with equally disposed ribs and allowed to drop through 12mm by a ground and hardened cam, Complete with mould 100mm base dia, 70mm top dia and 50mm high. The cam shaft is rotated at the rate of 100 RPM by an electric motor. Suitable for operation on 230 Volts 50 cycles. Single Phase, A.C. Supply. Manually operated flow table also available.
As Per Is:199 For Concrete:
The Flow Table consists of a brass or Mild steel table top of 76.2 cms(30")dia, finely machine from a solid brass casting or Mild steel Plate. The stand is fabricated out of cast iron/mild steel and is of study construction. The ground and hardened steel cam is designed to drop the table by 12.5mm. Complete with flow mould with handles with one tamping rod 0-60 cms long X 16cm. electrically operated to raise and drop the table top. approx. 15 times in 15 seconds. Suitable for operation on 230 volts, 50 cycles, A.C. Supply. Manually operated flow table also available.
Optional Accessories :
CONCRETE SCOOP