Vacuum Pump
---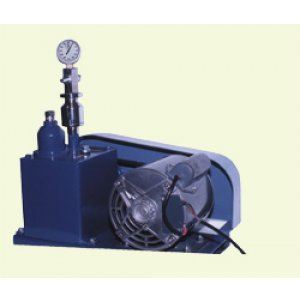 Used for specific gravity test by removing air voids from the Bitumen Mix. Very useful for other general laboratory tests where vacuum is required.
General Descriptions And Specifications
Complete with base, motor, pulley and belt. The pump mechanism is contained in a metal case with oil level and drain plug at base. Pump speed 450 RPM. Ultimate vacuum 0.01 mm/Hg. (Single stage). Complete with non-return valve, belt gauge and vacuum gauge with regulator.
Displacement
50 Ltr./Min, Motor Rating : 0.25 HP Single Phase. To work on 230 V AC, 50 Hz. Single Phase. Supplied complete with filtering flask of 1000 / 2000 ml. Capacity with rubber cork and pressure pipe to carry out the test.
Optional Accessories
Air Ballast.
Moisture Trap
Hard Rubber Pipe of Required Length.